Svalbard
Resort type:

Country resort

Landscape:

Mountains, Oceanfront, Riverside, Fjord, Tundra

What to do:

Culinary Tourism, Mountain Trails, Natural Parks & Reserves, Boat Trips, Wellness Tourism, Hiking, Safari, SPA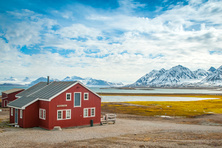 Svalbard is a Norwegian archipelago with the total area of about 61.000 square kilometres situated in the Arctic Ocean. The largest island is Spitsbergen. The administrative centre is Longyearbyen. The Archipelago is on Norway's tentative list for nomination as a UNESCO World Heritage Site.
Spitsbergen is largely a place for the extreme tourism. The active tourists will find a lot of activities from snow safari to kayaking. The tourists can go snowshoeing, go on a sea cruise and enjoyed the icebergs, go dog sledding or watch polar bears. In some cities, there is a high risk of polar bears attacks so it is strongly recommended to have some protective equipment.
There are no large shopping centres on the Archipelago. In Longyearbyen, you will find some souvenir shops, boutiques, Svalbardbutikken supermarket and Svalbard store-museum. At night, you can go to bars, for example, Kroa, Radisson, Nordpolet.
Huset, Gruvelageret, Svalbard serve such exotic dishes as sea-cow and reindeer.
The Archipelago cannot boast of many historical and architectural monuments. The tourists will see Svalbard Church and explore the expositions of Barentsburg Pomor Museum or North Pole Expedition Museum.
The ecological tourists will go on a tour to the neighbouring cities. Do not miss a chance to go on a helicopter tour to the North Pole. The guests of the Archipelago will enjoy the glaciers, fjords and mountains in the west of Svalbard. Excursions to the Magdalena Bay are also popular with the tourists.
The Archipelago hosts the only cultural event. It is Dark Seasons Blues music festival.
Radisson Blu Polar and Scandic Partner Spitsbergen hotels have wellness centres on site offering spa treatments for the wellness tourists.