Steyr
Resort type:

City resort

Landscape:

Town, Broadleaf Forest, Riverside, Coniferous Forest, Hills

What to do:

Cycling, Culinary Tourism, Natural Parks & Reserves, Wellness Tourism, Historical & Architectural Monuments, Hiking, Rafting & Kayaking, Festivals & Carnivals, Shopping, SPA, Nightlife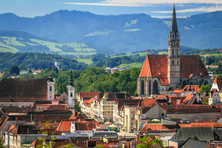 Steyr is an Austrian city in Traunviertel Region, Upper Austria State. It is situated on the shore of the Enns River in the north of the country. The city is 170 kilometres away from Vienna and 130 kilometres away from Salzburg. The total area of Steyr is 26 square kilometres.
The city was first mentioned in the documents in 980. Its rich historical heritage and monuments are the reason why it became a popular centre of the excursion tourism. The major local sights are Saint Mary Church, Saint Michaels Baroque Church, Castle Vogelsang and castle Lamberg. In the city, you will also see the Town Hall built in Rococo style. During an excursion tour around Upper Austria State, the tourists will see Salzkammergut Cultural Landscape and Prehistoric Pile dwellings around the Alps. These are all UNESCO sites.
The wellness tourists can have a Thai massage course in Nuad Thai Massage Steyr wellness centre. Minichmayr hotel also has a wellness centre on site offering spa treatments.
Steyr offers a wide range of activities for the extreme tourists. They will get unforgettable impressions from rafting, kayaking, trekking, biking and horseback riding. The active tourists can ride around the city and its suburbs on Segways. Anyone can ride a hot-air balloon, try parachuting, paragliding, hang-gliding.
Steyr Town Festival and Steyr Music Festival help to develop the event tourism in the city.
The ecological tourists will enjoy the beauty of the Enns River valley and go hiking in the suburbs of the city. They should not miss a chance to visit the Kalkalpen National Park.
You can go shopping at City Point Steyr shopping centre. At night such clubs as Stadt Wien, Diam, and Empire Linz open their doors. The foodies will enjoy their meals in Christkindlwirt, Gasthof Holzer, Minichmayr restaurants.