Skovde
Resort type:

City resort

Landscape:

Town, Lakes

What to do:

Aquaparks, Culinary Tourism, Golf, Natural Parks & Reserves, Wellness Tourism, Historical & Architectural Monuments, Gliding & Paragliding, Amusement Parks, Yachting & Sailing, Hiking, Surfing, Windsurfing & Kitesurfing, Festivals & Carnivals, Shopping, SPA, Nightlife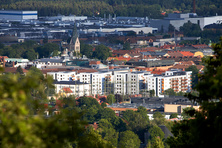 Skovde is a city and the administrative centre of Skovde Municipality in Vastra Gotaland County, Vastergotland Province. It is situated in the south of the country between the Vanern and Vattern lakes. It is 110 kilometres away from Boras and 350 kilometres away from Stockholm.
A lot of entertaining centres, nightclubs and discos are part of the city's wide appeal for the young people. The guests of the city can dance in Karhuset Boulogner, Bogrens Salonger and Plateaux. Go shopping at such shopping centres as Elins Esplanad, Commerce, Vasaporten. You can play golf on the field of Skovde Golfklubb. In the city, there is also Arena Skovde. The foodies will try traditional dishes of the Swedish cuisine in such restaurants as Graddhyllan and Kryddan.
Those who prefer the excursion tourism can take a walk around the city, visit Vambs Church and Saint Helena Church. Go on a trip around the region to see Rock Carvings in Tanum which are a UNESCO site. Do not go past Lacko Castle, Gunnebo Palace and Bohus Fortress.
The lovers of the event tourism prefer to come to the city in Christmas Time to participate in Skovde Food festival and Skovde Film Festival.
The Endorfin wellness center offers toning and relaxing spa treatments.
The ecological tourists will want to go to the suburbs of the city. They can visit 4 local national parks. They are Kosterhavet National Park, Tiveden National park, Tresticklan National Park and Djuro National Park.
If you want to get a rush of adrenaline, you can try your hand at rafting, kayaking, trekking, lake kiting or windsurfing, parachuting, paragliding and hang-gliding. Yachting on the Vanern and Vattern lakes is also very popular with the active tourists.