Overtornea
Resort type:

Country resort

Landscape:

Town, Riverside, Mixed Forest, Coniferous Forest

What to do:

Cycling, Culinary Tourism, Downhill Skiing, Diving & Snorkelling, Natural Parks & Reserves, Boat Trips, Wellness Tourism, Historical & Architectural Monuments, Gliding & Paragliding, Rafting & Kayaking, Surfing, Windsurfing & Kitesurfing, Snowboarding, SPA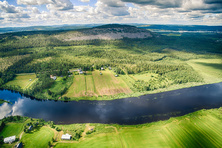 Overtornea is a Sweden city with the total area of about 3 square kilometres and the administrative centre of Overtornea Municipality in Norrbotten County. It is situated on the shore of the Torne River in the north-eastern part of the country close to the Finnish border. The city is 1.045 kilometres away from Stockholm.
This city is an ideal place for the extreme tourists. In winter, Svanstein Ski resort opens where the tourists can go snowboarding, alpine skiing or sledding. In the suburbs of the commune, the tourists can try their hand at free riding and cross-skiing. In summer, the active tourists will have a wide range of activities from kayaking, rafting to canoeing on the Torne. Trekking, horseback riding and biking are also popular activities with the tourists. Anyone can also go to the coast of the Gulf of Bothnia which is 70 kilometres away from the municipality. There the tourists can try diving, kiting, parasailing and windsurfing.
You will not have a good shopping experience in Overtornea. You should go to Lulea to have a great shopping. There you will find such malls as Storeheden and Smedjan.
The annual Weddes Marknads Festival attracts a lot of lovers of the event tourism to the city.
The foodies will surely enjoy traditional Swedish dishes in such restaurants as Utblick and Kattilakoski.
In Rosenday Spa and Savoy Spa wellness centres, you will be offered toning or relaxing spa treatments to improve your well-being.
The ecological tourists should definitely visit Storforsen Nature Reserve or Korgen nature Reserve. They will be impressed by a cruise along the Lule River. If you want, you can take a trip to the North Pole and see Aurora Borealis.
The only historical and architectural monument in Overtornea is Overtornea Church. The guests of the city can go on an excursion tour around the county, see such UNESCO sites as Church of Town of Gammelstad and Struve Geodetic Arc.