Oland
Resort type:

Country resort

Landscape:

Seacoast, Lakes, Island, Riverside, Hills

What to do:

Cycling, Natural Parks & Reserves, Historical & Architectural Monuments, Yachting & Sailing, Hiking, Fishing & Spearfishing, Festivals & Carnivals, Shopping, Nightlife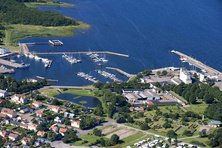 Oland is an island in the Baltic Sea. It belongs to Sweden. It is linked to the continent with the Kalmar Strait. The main city is Borgholm.
The lovers of outdoor activities and the excursion tourism prefer to come here. They can see the ruins of the Borgholm Castle, for example. On the territory of the castle, fairs, historical reconstructions and concerts are often held. Among the religious sights, you should see a small Gothic church. If you prefer modern art, do not go past Vida Museum. An open air museum which is not far from the Borgholm Castle will tell you about the live of Vikings.
A natural hallmark of Oland is Stora Alvaret limestone plain. Endemic plants and rare animals live in the plain. Stora Alvaret is a UNESCO site.
On the island you will find ancient cemeteries and Lerkaka Vaderkvarnar wind mills of the 17th century. They have been inscribed in the UNESCO World Heritage List. In the southern part of the island, there is a bird reserve where the tourists can watch the birds.
If you like to stay outside, we recommend you visiting Solliden Park. There are biking and walking paths. In Olands Cykeluthyrning, you can rent a bike. Ormoga Kamelranch offers you camel riding. The lovers of beach holidays should go to a wonderful Boda beach. The largest lake in the region is Hornssjon. The tourists can go fishing, yachting or sailing.
The kids will have a fun time in Olands Djupark which is in Farjestaden. In Paradisverkstaden, you will buy interesting souvenirs.
If you come to the island in autumn, you will have a chance to participate in Skordefest to celebrate the harvest time. In the program of the festival are fairs, exhibitions and concerts. The hallmark of this event is Konstnatten art night.
The European cuisine is served in Hotell Borgholm restaurant. Do not miss a chance to try the sweets in Olands Choklad. Pappa Bla offers you the dishes inspired by the Irish cuisine, delicious beer and an interesting night show at night. If you are used to staying up all the night long, go to Harrys Borgholm nightclub.