Alsace
Resort type:

City resort

Landscape:

Swamp, Mountains, Valley, Broadleaf Forest, Lakes, Plain, Riverside, Coniferous Forest, Hills

What to do:

Cycling, Golf, Downhill Skiing, Mountain Trails, Ancient Monuments of Civilization, Casinos, Horse Riding, Historical & Architectural Monuments, Amusement Parks, Hiking, Shopping, Religious Pilgrimage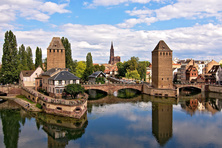 Alsace is a historical region in north-eastern France. The region is bordered by Germany and Switzerland. The capital and the largest city is Strasbourg. The second and the third largest as well as most populated cities are Mulhouse and Colmar respectively.
A journey to Alsace is the choice for those who seek for sightseeing along with outdoor activities. There are many ancient castles, fortresses and monasteries that all who have an eye for ancient architecture should visit. The most famous landmark of Strasbourg is the Strasbourg Cathedral, a 142 m Gothic cathedral. The Cité de l'Automobile (National Automobile Museum) is popular with visitors to Mulhouse. The city Colmar is a starting point for the famous Alsace Wine Route.
Any visitor who wants to can go on a pilgrimage tour to the mountain of Mont Sainte-Odile; the Mont Sainte-Odile Abbey recognized as an Alsatian heritage site is situated on its peak. Those who are interested in monuments of early civilizations should have a look at the Pagan Wall, a metallic construction that encircles the mountain. Near the village of Natzweiler you can find Natzweiler-Struthof, the only Nazi concentration camp on the French territory preserved to the present day.
Hiking, cycling and horse riding are available to ecotourism enthusiasts and their travel companions. Those going in for mountain sceneries are welcome to trek and hike through the ridges of the Route des Crêtes.
Boat trips, fishing, yachting and kayaking are offered as part of the Gilles Bastos Fly Fishing Guide tour.
Winter adventurers will discover slopes and trails available at the region's ski resorts: Le Markstein and Schnepfenried.
Le Kempferhof Golf Club throws its doors open to both beginner and professional golfers. There are a number of casinos throughout the region where gamblers can try their luck.
If travelling with your family, you may wish to visit Didiland, an amusement park in the city of Morsbronn-les-Bains. Shopaholics will enjoy numerous shopping malls and fairs of the region. Le Buerehiesel, a restaurant in Strasbourg, offers delicious wines and the Alsatian cheese Munster.