Angelholm
Resort type:

Beach resort

Landscape:

Town, Seacoast

What to do:

Culinary Tourism, Natural Parks & Reserves, Boat Trips, Amusement Parks, Yachting & Sailing, Sport Tourism, Festivals & Carnivals, Shopping, Nightlife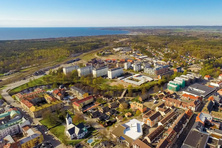 Angelholm is one of the oldest cities in Sweden and a centre of the commune bearing the same name. This resort is situated on the north-west of the Skane County.
Outside the city, there are sandy beaches Angelholm and Sibirien. The beach platforms are flat which make them children-friendly. The active tourists can play beach volleyball or ride a water bike.
The Upzone Adventure Forest Angelholm offers all the facilities for the climbers. And at the Angelholms Pistolskytteklubb anyone can test his or her skills at shooting.
If you want your holidays to be more informative, visit the Angelholms Flygmuseum and Jarnvagens Museum Angelholm.
The tourists like to go to the Hembyggdsparken where they can feed the animals and birds. For children, there are play areas. In the park you can even have a picnic.
Every year, Angelholm holds the Angelholm International Video Art Festival, which attracts the lovers of the event tourism.
Go shopping at Dormy Outlet, Pitstop Banger Shop and Lindri.
You will discover the Swiss cuisine in the restaurants Curry NamNam, Klitterhus Havsbadshotell o Restaurang, and Hummerhuset.
Bahnhof Bar and Angelholm Bahnhof Bar welcome everyone who does not sleep at night.