Bad Erlach
Resort type:

Country resort

Landscape:

Mountains, Broadleaf Forest, Coniferous Forest

What to do:

Cycling, Golf, Nudist Beaches, Wellness Tourism, Historical & Architectural Monuments, Hiking, Fishing & Spearfishing, Thermal & Mineral Springs, Shopping, SPA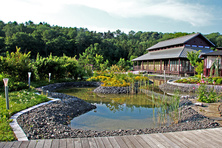 Bad Erlach is a village in the federal state of Lower Austria. In terms of administration, it is part of the district of Wiener Neustadt. It is just a 50-minute drive from the city of Vienna, Austrian capital.
The countryside spa-hotel Asia Resort Linsberg 4* is a top wellness spot. It is a hot spring resort with healing mineral waters. Visitors can benefit from its 4 outdoor pools filled with thermal and ordinary water, jacuzzis and hammam. For active visitors a gym with instructor service is available. If not a bit embarrassed, visit the nudist zone Nacktbereich with a pool, jacuzzis and saunas.
Vacationers can have a wide range of Asian skin care procedures offered at the spa complex of Linsberg Asia Hotel where 8 swimming pools and 9 saunas of different types are located. Visitors will have the possibility to consult a cosmetologist, massagist and nutrition specialist. The hotel offers individual rejuvenation programs for its clients.
The golf course Fоhrenwald is located 10 minutes from the resort. The village of Erlach offers hiking routes, bike trails and a tennis court. Curious tourists can visit the local museum Bad Erlacher Heimatmuseum. To enjoy historical landmarks take a tour of the medieval Seebenstein Castle, which is 7 km from Bad Erlach.
Outdoor adventurers and their travel companions should go hiking through the picturesque Johannesbachklamm gorge. One can also go fishing or picnicking. An exciting horseback riding tour can be enjoyed with Private Horse Tours.
To replenish your wardrobe and pick up some souvenirs that will remind you of the trip, go on a shopping tour to Wiener Neustadt. At Fischapark Shopping Center you can find clothing stores, beauty and jewellery boutiques.