Eslov
Resort type:

City resort

Landscape:

Town

What to do:

Cycling, Culinary Tourism, Golf, Natural Parks & Reserves, Carting & ATVs, Boat Trips, Wellness Tourism, Historical & Architectural Monuments, SPA, Nightlife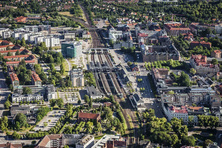 Eslov is a city in Skane Len in the south of Sweden.
Eslov attracts family tourists who prefer to stay in a noise-free and quite place. The tourists will see the main historical and architectural sight, it is Skarhult Castle.
In Eslov, there are the museums with interesting expositions such as Eslov Leksaksmuseum and Medborgarhuset.
If this is not enough, the tourists can take an excursion tour around Skane Len. In the city of Malmo, they can visit Malmo City Hall, Katrinetorp, Caroli Church, and Davidshallsbron. In Helsingborg, the travellers will see Sofiero Castle, Radhuset  and Church of Saint Mary. Among the most interesting sights in Lund are Lund Cathedral, Jakriborg and Medieval Museum.
The ecological tourists should not go past, such reserves as Skaneleden and Naturum Vattenriket. The active tourists should stay in Malmo for longer because there they can go on Malmo Bike Tours or a boat tour Stromma Rundan Sightseeing. They can also ride four-wheelers on 4x4 Event - Jeep Malmo.
In Vasatorps Golfbana and Rya Golfbana, the tourists can play golf. Divers are most welcomed in a specialised centre H2O Diving Lund.
The tourists who prefer a wellness tourism should visit a spa salon Destress SPA in Lund or Salt Creek Spa in Ystad.
A store ESL Group offers souvenirs and other goods. The foodies will enjoy their meals in Hurva Gastgivaregard, Storgatan, Trollenas Slott Event.
If you do not want to spend a night in your hotel room, go to a popular bar Grappa.