Esztergom
Resort type:

City resort

Landscape:

Town, Mountains, Broadleaf Forest, Riverside

What to do:

Cycling, Culinary Tourism, Golf, Natural Parks & Reserves, Horse Riding, Historical & Architectural Monuments, Hiking, Festivals & Carnivals, Nightlife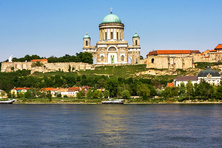 Esztergom is an old beautiful city in Hungary. It was built on the shore of the Danube and is situated 46 kilometres away from Budapest close to the border with Slovakia.
An excursion trip around Esztergom will acquaint you with a centuries-old history of the city and its amazing architecture. The tourists will see Esztergom Basilica, Vizivaros Parish Church, Turkish Mosque and Courthouse. A significant sight in the city is Maria Valeria Bridge, which links Esztergom with a Slovakian city Sturovo.
The tourists who want to learn more about the country and the city should visit Castle Museum, Museum of Christian Art, Duna Museum and Balassa Balint Museum. The ecological tourists will want to go to Fenyes Education Trail of Tata.
Anyone can play gold in Old Lake Golf Club. And Maximum Equestrian Club welcomes those who want to try their hand at horseback riding. In an entertainment centre Teremgokart Palya & Kavezo, you will have a fun time.
From June to August, Esztergom holds Esztergom Castle Theater festival.
In the city, there are such supermarkets as TESCO Esztergom Hipermarket and ALDI Esztergom. The foodies will surely enjoy their meals in Mediterraneo, Primas Pince Esztergom and Csulok Csarda. At night, Malata bar, Cippolino Kavezo and Joker Pub Muzla open their doors for everyone.