Beroun
Resort type:

City resort

Landscape:

Town, Valley, Riverside, Mixed Forest

What to do:

Mountaineering, Cycling, Mountain Trails, Boat Trips, Historical & Architectural Monuments, Hiking, Sport Tourism, Rafting & Kayaking, Safari, Festivals & Carnivals, Shopping, Nightlife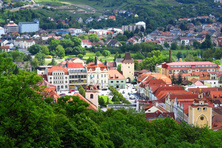 Beroun is the capital of the Beroun District in the Czech Republic. It is located at the confluence of Berounka and Litavka rivers.
Beroun is focused on urban tourism. The town is surrounded by the remains of Beroun city walls dating back to the Middle Ages. The town's main attractions are concentrated on and around the Husovo Square. Vacationers will see the baroque Town Hall, a Czech cultural heritage. On the west side of the square there is the Church of Saint Jacob built in the 18th century. The Prague Gate and the Pilsen Gate are located on opposite sides of the square. Those spending their holidays with children will find it interesting to visit the Medvedarium, where three bears live in an enclosure (Vojta, Matej and Jacub). The animals became famous as movie stars from bedtime stories. There is a children's playground and a café close to the enclosure.
The beautiful Jenstejn Castle dating back to the 17th century houses the Museum of Czech Karst in Beroun. The collection includes specimens of rock, cultural and historical artifacts that were found near the town. Outside Beroun there is a lookout tower dating from 1936. It is 11 m high.
Mountain hiking, climbing, 4 by 4 tours, cycling, trekking and hiking are available for outdoor adventurers. The canyon of Lom Velka Amerika (Big America) is a popular trekking spot. As for watersports, visitors to the region will be offered to go kayaking and canoeing, or to go on a boat or catamaran tour.
In summer the Tallichuv Beroun music festival take place in the town. Everyone who loves beer should take a tour of Pivovar Berounsky Medved. The brewery makes beer with firewood, according to an old Czech recipe.
Shopping enthusiasts are welcome to explore Metropole Zlicin. A wide selection of European brands can be found at AVION Shopping Park.
Restaurant Ve Stolet offers to try Czech dishes. Foods cooked over an open fire are served at Blackdog Bar & Grill. Those thirsting for nightlife can party at Metro Club Beroun.