Bieszczady
Resort type:

Country resort

Landscape:

Mountains, Broadleaf Forest, Riverside, Coniferous Forest

What to do:

Cycling, Downhill Skiing, Natural Parks & Reserves, Horse Riding, Historical & Architectural Monuments, Amusement Parks, Yachting & Sailing, Hiking, Fishing & Spearfishing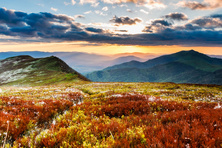 The Bieszczady Mountains is one of the most picturesque regions of Poland.
Holidays in Bieszczady offer a unique chance to enjoy the scenic mountain slopes covered with forest, see the traces of ancient settlements and visit small towns with centuries of history. Many travellers start with visiting the San River valley. This region is popular with fishing and kayaking enthusiasts.
Excursion tourism lovers can go sightseeing in the town of Rzeszow: visit the Rzeszow Town Hall, Lubomirskich Palac and Wniebowziecia NajSwietszej Mary Basilica.
There is a valley lying between the villages of Zatwarnica and Rajska where Boykos lived until the World War II. These days the ruins of old houses and churches can be found round there.
The lake Solonskoe is a perfect yachting spot. There are about 200 bays along the lake, of which Teleshnitska and Podleshechinska are the most popular. At the Lake Tarnobrzeg tourists will find sandy beaches where they can swim or bag some rays.
The Slate Menilite Wall route is available for hiking enthusiasts in Bieszczady. Cyclotourists will be offered to follow the Cycle Trolleys — Rental and Trips route; Carpatica Stables is rather good for horseback riding. A journey from Maidan to Smolnik along a narrow-gauge railroad will be an ultimate experience for tourists.
Ecotourists and outdoor enthusiasts are welcome to the village of Komancza. To enjoy the wild nature, they can go to the Bieszczady National Park. In wintertime Bieszczady is a good choice for winter sports enthusiasts who are welcome to ski at the centres of Gromadzyn and Ustrzyki Dolne.
Those travelling with children shouldn't miss AlcaTraps Entertainment Center in Rzeszow. Rzeszow Shopping Mall and Jatomi Fitness Millenium Hall are great places to do shopping. In Sanok you can tray traditional local dishes served at Stary Kredens, Cos Slodkiego and Jadlo Karpackie Karczma. In the evenings tourists are welcome to the bars Stary Browar Rzeszowski and Hola Lola in Rzeszow.