Blekinge
Resort type:

City resort

Landscape:

Broadleaf Forest, Seacoast, Lakes, Riverside, Coniferous Forest

What to do:

Diving & Snorkelling, Natural Parks & Reserves, Boat Trips, Wellness Tourism, Historical & Architectural Monuments, Gliding & Paragliding, Yachting & Sailing, Hiking, Sport Tourism, Fishing & Spearfishing, Safari, Surfing, Windsurfing & Kitesurfing, Thermal & Mineral Springs, Festivals & Carnivals, Shopping, SPA, Nightlife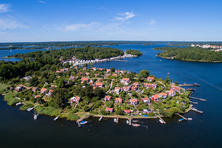 Blekinge is one of the Swedish historical provinces in Gotaland. It is situated in the Blekinge County in the south of the country. The province has access to the Baltic Sea. It borders Smaland Province and Scania Province. The total area of the province is 2 941 square kilometres.
If you stay in Blekinge you will have a chance to acquaint yourself with major historical and architectural monuments. You should definitely visit the Admiralty Church, the Drottningskar Citadel, and the Kungsholm Fortress. The tourists can also visit the Naval Port of Karlskrona, which is UNESCO site.
The coastal resorts can offer everything and anything for the extreme tourists. They can try their hand at diving, kitesurfing, parasailing, windsurfing or yachting. For the active tourists, there are biking and hiking routes.
Those who prefer to witness cultural events should participate in the Sweden Rock Festival and the Killebom Fair. In the capital city of the Province, in Karlskrona, there are large shopping malls such as Wachtmeister Galleria and Silver. The restaurants Eken, Karlskronaglass, and Yame Garden welcome everyone who wants to try the dishes of the traditional Swedish cuisine.
The favourite destination of the ecological tourists is the Eriksberg Wildlife Park. Go on a safari tour and watch buffaloes, red deers, moufflons, and bisons. Excursions to the Hano Island covered with woods and rocks are especially popular among the tourists.  
The city of Ronneby is known for its mineral sources so people come here to improve their health. Here one can have a spa treatment and drink chalybeate waters as prescribed by the doctor, play tennis and volleyball.