Boden
Resort type:

Country resort

Landscape:

Town, Lakes, Riverside, Coniferous Forest

What to do:

Aquaparks, Culinary Tourism, Wellness Tourism, Hunting, Historical & Architectural Monuments, Amusement Parks, Hiking, Fishing & Spearfishing, Shopping, SPA, Nightlife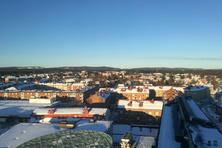 Boden is a city in Sweden and a centre of the Boden Commune. It is situated on the left shore of the Lule River in the north of the country. It is part of the Norrbotten County. The total area of the municipality is about 19 square kilometres. It is 35 kilometres away from Lulea and 290 kilometres from Vejle.
Historical and architectural monuments which are still preserved in the municipality and its suburbs attract those who cannot imagine their journeys without excursions. If you stay in Boden you should definitely visit the Fort Rodberget and Svedjeberget Fortress built around the city at the beginning of the 20th century. The Museum Fortress Wizard, the Pansar Museum and the military post Rodberget are must-visit places.
The ecological tourists can take a walk in the country and enjoy picturesque landscapes and aurora borealis. In summer, everyone can go hiking in the conifer forest and collect medicinal herbs. There are a lot of rivers and lakes not far, including a famous Svartbytrаsket lake.
The active tourists can go hunting or fishing and take a walking tour to the Gulf of Bothnia.
In the municipality, there are also such entertainments as karaoke bars, bowling centres, and the amusement park. If you want you can go to the football stadium Boden Arena or the aqua park Nord Polen.
In the hotels Bodensia Boden and Standard, there are small shops where you can buy all you need. For the best shopping go to the Gant Store and Elgiganten Lulea Megastore.
Bars and some night clubs will not allow you sleep at night. The most popular are Lotus Club, MIS Branna, and Allstar.
Treatment centres and spa salons in Lulea offer many treatment programs for those who want to improve their health.
The foodies should not miss the chance to try seafood dishes in the restaurant Arctic Thai & Grill and treat themselves to a local ham and a traditional berry beverage in Ruter Retro Cafe or Cafe Tingshuset.