Bocas del Toro
Resort type:

Beach resort

Landscape:

Cove, Lagoon, Seacoast, Island, Tropical Forest

What to do:

Diving & Snorkelling, Natural Parks & Reserves, Yachting & Sailing, Fishing & Spearfishing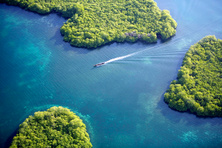 Bocas del Toro is an archipelago in Panama situated in the north-west of the country. It borders Costa Rica. The archipelago consists of 9 large islands, 52 smaller islands, and 200 miniature islands which resemble the reefs more. The major island on Bocas del Toro is the Kolon Island.
The archipelago is known for its amazingly beautiful landscapes, huge coral reefs and thick tropical forests which are a habitat for various species of birds, reptiles, and mammals. The lovers of ecological tourism and those who want to escape the city noise and enjoy a wild nature come to this island. Bocas del Toro welcomes the fishermen and divers all the year round.
If you want to spend some lazy time on a beach go to Bocas del Drago, Bluff Beach, Punch Beach, Cayos Sapatilos, Playa Larga, and Red Frog Beach. On the San Cristobal Island, the tourists can see the dolphins. In the National Marine Park, everyone can watch the endangered sea turtles and on the Bird Island, there are huge colonies of sea-gulls.
The fans of diving usually choose such beaches as Hospital Point, Koralki, Punta Juan, and Dark Wood Reef.