Borsod-Abauj-Zemplen
Resort type:

City resort

Landscape:

Mountains, Broadleaf Forest, Riverside, Coniferous Forest, Hills

What to do:

Mountaineering, Culinary Tourism, Natural Parks & Reserves, Wellness Tourism, Historical & Architectural Monuments, Gliding & Paragliding, Amusement Parks, Hiking, Caves, Rafting & Kayaking, Thermal & Mineral Springs, Festivals & Carnivals, Shopping, Nightlife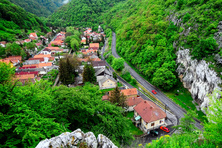 Borsod-Abauj-Zemplen County is the name of an administrative county or megye in north-easter Hungary situated along the border with Slovakia. It neighbours Heves County, Nograd, Szabolcs-Szatmar-Bereg, and Hajdu-Bihar. The total area of the county is 7.247 square kilometres. An administrative centre is the city of Miskolc.
This county is a perfect place for those who prefer excursion to other touristic entertainments and activities. The tourists can visit the Tokaj Wine Region Historic Cultural Landscape which is under UNESCO protection. Among some other historical and architectural monuments of a great touristic interest are Church of All Saitns and Rooster Church, Castle of Boldogko and Miskolc Old Wooden Church.
The natural diversity of the county makes it a good destination for the ecological tourism and attracts the tourists from all over the world. The tourists will have a chance to visit Anna Sinter Cave and Saint Stephen Cave. Anyone can take a tour to the nature reserves. In the Bukk National Park, there are hiking routes across the beech woods and vineyards. This park is also popular among the lovers of the wellness tourism because of its hot springs. Take a trip to the Aggtelek National Park and see the Caves of Aggtelek Karst, which are inscribed on the UNESCO World Heritage List.
Borsod-Abauj-Zemplen County annually holds the Harvest Festival and the International Opera Festival, which attract many tourists to this place.
There are all the conditions for canyoning and climbing in the Bukk Mountains. If you want an adrenaline rush you can go rafting, paragliding, parachuting, hand gliding, and kayaking.
If you want to have city entertainments spend some days in the capital. In Miskolc, there are night clubs such, as Mandarin, Drink, and Diamond, shopping centres Auchan and Szinvapark Bevasarlokozpont, and an amusement park Avalon. The foodies will have a great time in a restaurant Dulo.