Brandenburg
Resort type:

Country resort

Landscape:

Broadleaf Forest, Lakes, Riverside, Coniferous Forest

What to do:

Mountaineering, Culinary Tourism, Mountain Trails, Natural Parks & Reserves, Boat Trips, Wellness Tourism, Historical & Architectural Monuments, Gliding & Paragliding, Sport Tourism, Rafting & Kayaking, Festivals & Carnivals, Shopping, SPA, Nightlife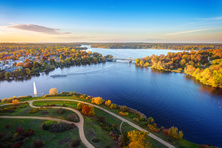 Brandenburg is one of the federated states in Germany with the total area over 29.000 square kilometres. It is situated in the northeast of the country. It shares its borders with Poland. It also neighbours Saxony-Anhalt, Mecklenburg-Vorpommern, and Saxony. An administrative centre is Potsdam. In the centre of the region is a federated Berlin State.
The lovers of ecological tourism will have an unforgettable experience while having a boat trip across the Oder River and the Elbe River and visiting numerous parks. The tourists can visit the Lower Oder Valley National Park or take a trip to the Spreewald Biosphere Reserve and the Nuthe-Nieplitz Nature Park. If you enjoy natural sights you will want to go to the Germany Ancient Beech Forests and Primeval Beech Forests of Carpathians. They are inscribed on the UNESCO World Heritage List.
Potsdam is the centre of city entertainments. The tourists can go shopping to such malls as Markt-Center, Waldstadt-center, and Luisenforum. The nightlife is humming in the clubs Waschhaus, Lindenpark и Charlotte. The tourists with children should visit an amusement park Filmpark Babelsberg.
The event tourism is supported due to the Brandenburg Choral Festival and the Potsdam Music Festival.
Those who prefer the wellness tourism should stay in Potsdam and take advantage of the services offered by wellness centres in such hotels as Bayrisches Haus и Inselhotel Potsdam.
The restaurants Dreimaderlhaus and Jero offer traditional German dishes.
Anyone can take excursions to the legendary historical and architectural monuments such as Parks and Palaces of Potsdam which are under UNESCO protection.
If you need an adrenaline rush try rope jumping, kayaking, mountain trekking, climbing, canyoning, rafting or paragliding.