Brittany
Resort type:

Beach resort

Landscape:

Broadleaf Forest, Lakes, Oceanfront, Plain, Coniferous Forest, Hills, Bay Coast, Cliffs

What to do:

Cycling, Culinary Tourism, Golf, Diving & Snorkelling, Casinos, Carting & ATVs, Horse Riding, Boat Trips, Wellness Tourism, Historical & Architectural Monuments, Gliding & Paragliding, Amusement Parks, Yachting & Sailing, Hiking, Fishing & Spearfishing, Surfing, Windsurfing & Kitesurfing, Shopping, Nightlife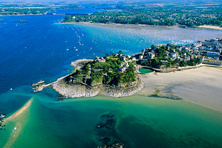 Brittany is a historical region in France situated on the Brittany Peninsula on the northwest of the country. Its northern borders are washed by the English Channel and the southern borders are washed by the Bay of Biscay. The capital city of the region is Rennes.
The lovers of beach holidays choose Brittany. The best beaches can be found in such resorts as Piriac-sur-Mer and Saint-Malo. If you want to escape crowds of people and noise you should choose the beaches Le Croisic. Different water activities are available for the tourists, for example, diving and snorkelling, surfing, kitesurfing and windsurfing, yachting and kayaking, boat trips and fishing. At the Yousurf Ecole de Surf Guidel they will teach you the basics of surfing.
For those who prefer out-of-town holidays, there are hiking and biking routes. The tourists also have an opportunity to try horseback riding. There is no better place for hiking than Cote de Granit Rose.
The extreme tourists can try their hand at four wheeler riding, paragliding, and soaring.
A picturesque nature and good ecology make Brittany a good destination for the ecological and wellness tourism. The largest thalassotherapy centre is Thalasso Roscoff in the city of Roscoff.
Of course, there are excursion tours arranged for the tourists. The most visited places in Brittany are Quimper Cathedral and Vitre Castle.
Brittany is a children-friendly city. There are amusement parks and entertainments for kids. Children love Enigma Park most of all.
Anyone can play golf and tennis, the tourists will want to visit the restaurants and night clubs. Go shopping at the malls Centre Alma and Jacqueline Riu. If you like gambling, there is Casino Barriere Saint-Malo.
The foodies will be delighted by original pastry and sweets of the confectioner's Jeff de Brugges.