Vaasa
Resort type:

City resort

Landscape:

Bay Coast

What to do:

Cycling, Culinary Tourism, Downhill Skiing, Natural Parks & Reserves, Horse Riding, Boat Trips, Wellness Tourism, Historical & Architectural Monuments, Hiking, Fishing & Spearfishing, Festivals & Carnivals, Shopping, Nightlife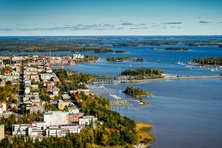 Vaasa is a city located on the coast of the Gulf of Bothnia in the Baltic Sea in the west of Finland. It is the administrative centre of Ostrobothnia Province. The city is 240 kilometres away from Tampere and 335 kilometres away from Turku. Its total area is 397 square kilometres.
Vaasa attracts many lovers of the event tourists every year as it hosts Vaasa Choir festival and Rantarock Festival.
The Kvarken Archipelago is the reason why the ecological tourists prefer to come to Vaasa. It got listed on the UNESCO World Heritage List. The group of islands represents the youngest part of the land in the world and its area is rapidly expanding. There are about 20 species of endemic animals on the territory of the Archipelago.
If no holiday is complete for you without excursions, you can see such historical and architectural monuments as Holy Trinity Church, the City Hall, Opera House. During an excursion tour, you will also visit Ulrika Eleonora Church. Cruises along the Kvarken Strait and excursions to Sweden are organized for the tourists.
Vaasa can offer a wide choice of activities for the extreme tourists. In winter, they can go skating and skiing on the frozen Strait or go ice fishing. In summer, there is everything you may need for biking, horseback riding and hiking.
Dear Spa and Modern Zone Spa wellness centres offer spa treatments and a massage.
You will have a great shopping experience at Rewell Center and HS Center. At night, Fontanaclub, Doo-Bop, Plan B clubs open their doors. The foodies will try typical Finnish cuisine in such restaurants as Kauppahalli, Gustav Wasa and Kaksi Kupolia.