Vatican
Resort type:

City resort

Landscape:

Hills

What to do:

Historical & Architectural Monuments, Hiking, Shopping, Religious Pilgrimage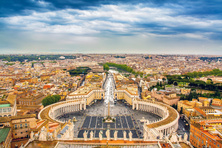 Vatican is the capital city of Vatican City situated on the Monte Vaticano Hill. This city state is built in the west of Rome 20 kilometres away from the Tyrrhenian Sea.
Vatican City is the heart of the Catholic religion and the place of pilgrimage for the millions of people. The tourists traditionally come to Vatican to celebrate Christmas and Easter.
This city is an open-air museum because it has a lot of architectural monuments and Christian relics. Vatican finds favour not only with the believers but also with the tourists who appreciate cultural and historic heritage of Italy. The lovers of the excursion tourism should visit Apostolic Palace, Cappella Nikkolina, Vatican fortress wall and Passetto. The pilgrims prefer to go on a tour to the sacred sites of Vatican such as Saint Peters Cathedral Dome and Cappella Sistina. On the top of the Saint Peters Cathedral Dome, there is a viewing platform from which you can see all the palaces, museums and gardens of Vatican.
Learn more about the city and visit such museums as Pio-Clementino Museum, Chiaramonti Museum, Pio-Christian Museum, Gregorian Egyptian Museum, Vatican Historical Museum, Vatican Pinacoteca.
If you appreciate art, you should not miss a chance to go to Vatican Apostolic Library, Gallery of the Candelabra, Tapestry Gallery and Gallery of Maps. After the excursions, you can take a relaxing walk in the Vatican Gardens, which occupy more than half of the area of the city.
There are no large malls on the territory of Vatican. In Vatican gift shop, Savelli, Vatican Souvenir and Mondo you can buy religious items or souvenirs. You can have a meal in such restaurants as Ristorante dei Musei Vaticani, Da Vito e Dina and Spinosi Alberto. You will not find any noisy entertaining facilities here, but at night famous Roman bars Moretto and Passaguai open their doors.