Vatican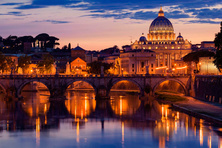 Vatican is the smallest state in the world which is officially called the Vatican City State. It is situated within the city of Rome and associated with Italy. Vatican is distinct from the Holy See and it is the official papal residence.  
Vatican has a subtropical Mediterranean climate. The best time for spending the holidays in Vatican is the time across seasons.
The official languages are the Latin and Italian. The official religion is Catholicism.
Vatican is a popular place for pilgrimage or religious tourism. Thousands of tourists come to Vatican every year to pray in old churches of this Holy land and receive the blessing of the Pope. Event tourism is also religion-oriented.
Vatican is also a popular place for those tourists who like to go to excursions because there are a lot of historical and cultural monuments, significant sites and interesting museums which you can visit yourself or with a group.
You can also enjoy the nature in the Vatican gardens.
Food lovers will have a chance to try special "church" dishes offered by some restaurants. 
Get in
By Plane
There is no airport on the territory of Vatican. The nearest airport is in Rome. The tourists from EU countries can fly to Rome by Germanwings, Alitalia, Vueling, Air France, Austrian and Finnair without stops.
Transaero and Aeroflot offer direct flights from Russia, MAU has flights from Ukraine and Belavia offers flights to Rome from Belarus. You can get to Rome from Tashkent by Uzbekistan Airways. Wizz Air and Air Moldova offer flights between Kishinev and Rome.
By Train
You can get to Rome from EU countries  by train and then by suburban train reach St. Peter's Train Station in Vatican.
By Bus
Buses run between CIS countries and Vatican with a stop in Germany. There is also a bus communication between Vatican and neighboring countries.
Visa
Tourists from the European Union can stay in Vatican for three months without a visa.
People from CIS countries need either Italian or Schengen visa. You can submit documents for a visa to a visa center or the Italian embassy. To submit the documents to the visa center, make an appointment on the web site.
Your application can be under consideration for up to 30 working days, so make sure you have enough time before your trip to Vatican.
The period if visa validity is 90 days. The tourists entering Vatican should also have a copy and the original of their birth certificate. 
Customs
Vatican does not have its own customs legislation and adheres to the Italian legislation. Import of national and foreign currency is not limited. If you export the money in the sum of more than 10.000 Euros, you need to obtain a permit.
You can bring into Vatican the following goods free of customs tax:
a certain amount of alcohol and tobacco;
clothes, jewelry and perfume for personal use;
2 cameras, 1 video camera, 1 radio transmitter and 1 player for each tourist;
a limited amount of sports equipment.
It is prohibited to bring in the following things:
some foods;
plants in soil, living birds and animals;
leather and fur goods made of endangered species;
psychopharmacological drugs.
The tourists must not export documents and antiquities without permission of the authorities.  
Cuisine
Vatican cuisine is mainly based on Italian cooking traditions. The locals use in abundant amounts vegetables, olive oil, legumes, mushrooms and seafood.
During religious holidays, the pilgrims are offered special "church" dishes. For Christmas, it will be the dish The Feast of the Seven Fishes with cod, shellfish, eel and squid. Traditional Easter dish is lamb prepared according to a special recipe.
The locals love Lenten Pasta which can be eaten by the vegetarians and people who observe the Lent. Try vegetable Lasagna, Agnolotti with spinach and Pappardelle.
Seafood lovers should try Acqua Pazza (poached white fish), Cacciucco (stewed shrimps, fish and shellfish), a squid dish Totano imbottito and vegetable salad with seafood Cappon margo.
Traditional soups are Acquacotta with bread, tomatoes and onion, Garmugia on the vegetable broth and Maccu with dried mushrooms.
Those who have a sweet tooth will surely like a Christmas cake Pandoro, a biscuit with cream Zuppa Inglese and almond cookies Cantuccini.
At the end of the meal, they usually serve coffee, tea or juice. You can also try Cahors wine which is produced specifically for Vatican. 
Money
The official currency is Euro which is equal to 100 cents. Vatican also issues its own coins different from the European ones. The bank notes from 5 to 500 Euro and 1-2 euro coins from 50 to 1 cent are in circulation.
We recommend exchanging currency at Italian banks and exchange offices or in post offices before your trip to Vatican. Credit cards and traveler's checks are accepted virtually everywhere in Vatican.
Some shops in Vatican accepted the tax-free system and you can refund the cost of your purchase/ The sum of the purchase should be, at least, 155 Euros.
In Vatican is an extremely high level of pickpocketing, so you should be very careful and attentive to your things and bags. Do not have with you large sums of money or valuable things.  
Details of interest
Sightseeing in Vatican
In Vatican, there are two UNESCO sites:
The tourists should visit the Historic Centre of Rome, the Properties of the Holy See in that City Enjoying Extraterritorial Rights and San Paolo Fuori le Mura. The oldest buildings in this architectural ensemble date back to 700 B.C. The complex includes such buildings as Mausoleum of Hadrian and Augustus, Pantheon, Forums, Column of Marcus Aurelius and Trajan's Column and some religious public buildings. Being in Vatican, pay attention to the unique monumental sites: the Papal Basilica of Santa Maria Maggiore famous for its mosaic, Saint Peter Basilica with fresco paintings depicting the life of this Saint and  Archbasilica of Saint John Lateran.
The second site under UNESCO protection is Vatican City itself. Staying in Vatican, the tourists have a unique opportunity to explore the rich history of the country, understand the significance of Vatican for the Christians and enjoy the works of Rafael, Bernini, Bramante, Michelangelo and Maderna.
The museums of Vatican have interesting expositions. First of all, visit the Gregorian Etruscan Museum, Pio-Christian museum, Vatican Pinakothek, Belvedere Palace, Chiaramonti museum, Vatican Historical museum and Missionary Ethnological museum.
If you are interested in ancient documents and manuscripts, go to the Vatican Library with the most extensive collection of books in the world. 
On the territory of the Papal Palace, you can see a world famous Sistine chapel, Niccolini chapel and Geographical Maps gallery, Candelabras gallery and Arazzi gallery.
Pio Clementino museum, Gregorian Egyptian museum, Borgia Towers, San Damaso courtyard and Nicholas V palace are also of a great interest.
Souvenirs from Vatican
crosses, icons, amulets, religious pendants;
CD with the Pope;s powerful messages;
Vatican postal stamps;
Vatican coins;
Holy water;
post cards, magnets and figurines.