Wieliczka
Resort type:

City resort

Landscape:

Town

What to do:

Cycling, Culinary Tourism, Natural Parks & Reserves, Wellness Tourism, Historical & Architectural Monuments, Gliding & Paragliding, Hiking, Festivals & Carnivals, SPA, Nightlife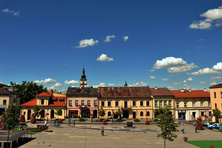 Wieliczka is a Polish city in Wieliczka County, Lesser Poland Voivodeship. It is situated in the south of the country near the borders with Czech republic and Slovakia. The total area of the city is about 13 square kilometres. It is 15 kilometres away from Krakow and 90 kilometres away from Katowice.
The main attraction in the city is Wieliczka Royal Salt Mines inscribed on the UNESCO World Heritage List. The lovers of the excursion tourism will have a chance to walk along the underground passages with the total length of 300 kilometres. Another interesting sight on the city is Saint Clement Church. The guests of the city go on a tour around Krakow and see the Historic Center of Krakow which is a UNESCO site.
There is a wide range of activities for the extreme tourists such as paragliding, trekking, hang-gliding, horseback riding and biking. Canyoning in the Olkuska Upland is also a popular activity.
Turowka hotel has a wellness centre on site offering toning and relaxing spa treatments for the wellness tourists.
Summer Music festival attracts those who prefer to participate in the local events.
You can go shopping at such malls as Abito and Galeria NaCl. The nightlife is vibrant in the neighbouring Krakow. You will find there such clubs as Ibiza, Taboo, Frantic and Paradise. The foodies should not go past Karczma Halit, Pod Lominem and Pod Wielka Sola restaurants.
The ecological tourists should not miss a chance to go to Krakow Valleys Landscape Park, Kobylanska Valley, Bedkowska Valley and Bolechowicka Valley.