Wels
Resort type:

City resort

Landscape:

Town, Riverside

What to do:

Cycling, Culinary Tourism, Golf, Natural Parks & Reserves, Horse Riding, Wellness Tourism, Historical & Architectural Monuments, Gliding & Paragliding, Hiking, Rafting & Kayaking, Festivals & Carnivals, Shopping, Nightlife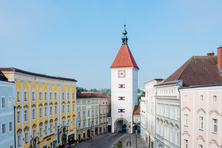 Wels is an Austrian city belonging to the Upper Austria State. It is located on the Traun River in the northwest of the country not far from the Czech Republic and German borders. The city is 30 kilometres away from Linz and 107 kilometres away from Salzburg. Its total area is almost 46 square kilometres.
This old city is attractive for the lovers of the excursion tourism. During an excursion tour, you will see the Castle of Wels, Town Halls of Wels, visit the New Apostolic Church and take a walk at the City Square of Stadt Square. Tours to historical and architectural monuments of the region are organized. You will see Hallstatt-Dachstein Cultural Landscape and Prehistoric Pile Dwellings around the Alps which are UNESCO sites. You should also see such UNESCO candidate sites as Abbey of Kremsmunster and Iron Trail with Erzberg and Steyr Old Town.
The extreme tourists will also like the city because it offers a wide range of activities. For example, they can go rafting, rowing, kayaking, hang-gliding, parachuting and hiking. The active tourists can play golf on the Golf-Club Wels field. You can also have some lessons of horseback riding or go on a group tour to the suburbs of the city.
Fresh air and a favourable ecological atmosphere have a positive effect on the wellbeing and the health.
The event tourism is maintained in the city thanks to such festivals as Youki and Music Unlimited.
You will have a great shopping experience at Shoppingcity Wels. At night, Pegasus, Leopold Espernberger, and Kreuzbeils open their doors. In's Haas, Loewenkeller and Hudernwirt restaurants serve typical Austrian dishes.
The ecological tourists should definitely visit the Kalkalpen National Park.