Alava
Resort type:

Country resort

Landscape:

Mountains, Bay Coast, Flora of the Mediterranean

What to do:

Mountaineering, Cycling, Culinary Tourism, Mountain Trails, Natural Parks & Reserves, Wellness Tourism, Historical & Architectural Monuments, Hiking, Rafting & Kayaking, Festivals & Carnivals, Shopping, SPA, Nightlife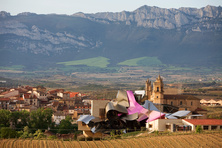 Alava is a Spanish province covering about 3.000 square kilometres and is part of the autonomous community Basque Country. It is situated on the north of the country not far from the Bay of Biscay. It borders such provinces as the Navarre Province, the Burgos Province, the Guipuzcoa Province, and La Rioja Province. Vitoria-Gasteiz is an administrative centre.
Alava is a destination for ecological tourism. There are exotic tours to the Gorbea Natural Park, which offers hiking and trekking routes to the waterfalls. The tourists can go to the Anana Salt Valley, which is a UNESCO candidate site. The tourists can participate in the Azkena Rock Festival or Vitoria-Gasteiz Jazz Festival.
In the capital city, you will find modern malls such as Lakua Centro and El Corte Ingles and night clubs Emedos and Jimmy Jazz Gasteiz. The foodies will try traditional Spanish dishes in such restaurants in Vitoria-Gasteiz as Zaldiaran, Bost, and El Clarete.
Alava preserved many historical and architectural monuments so it is also a popular centre of excursion tourism. The tourists will see the Cathedral of saint Maria, Vitoria-Gasteiz City Walls, the House of Cordon, and the Portilla Castle.
Food and wine tours are arranged for the tourists.
In the wellness centres Bakh and Zedka Spa, anyone can improve his or her health and just relax during a spa-procedure.
Get some adrenaline rush and go climbing, try paragliding, rafting, and biking.