Vastra Gotaland
Resort type:

City resort

Landscape:

Broadleaf Forest, Lakes, Riverside, Coniferous Forest, Strait

What to do:

Culinary Tourism, Golf, Diving & Snorkelling, Natural Parks & Reserves, Wellness Tourism, Historical & Architectural Monuments, Gliding & Paragliding, Yachting & Sailing, Rafting & Kayaking, Surfing, Windsurfing & Kitesurfing, Festivals & Carnivals, Shopping, SPA, Nightlife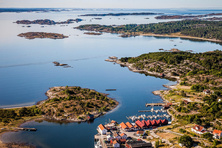 Vastra Gotaland County is a Swedish region locate near the Skagerrak Strait in the southwest of the country on the territory of Vastergotland Province, Bohuslan Province and Dalsland Province. The total area of the county is 23.945 square kilometres. The administrative centre is Gothenburg.
Those who prefer city entertainments can go shopping at Nordstan and Allum Kopcentrum malls in Gothenburg. At night, Glow and Gretas Goteborg nightclubs open their doors. Anyone can play golf on the Wilde Horse field. The national Swedish cuisine is served in such restaurants as Sjobaren I Haga, Koka, Smaka.
The main festivals maintaining the event tourism in the region are Goteborg Film Festival and Gothenburg Sound Festival.
Staying in this region, the lovers of the ecological tourism will visit 4 national parks: Kosterhavet National Park, Tiveden National Park, Djuro National Park and Tresticklan National Park.
Fresh air and a favourable ecological situation have a positive effect on the health and the wellbeing, which attracts the wellness tourists. In Skonhetsfabriken wellness centre, you can have relaxing and toning spa treatments.
The extreme tourists will get a rush of adrenaline when going rafting, trekking, parachuting, paragliding and hang-gliding. In the coastal areas, they can try their hand at kiting, diving, parasailing, yachting, windsurfing or sailing.
Those who prefer the excursion tourism, will want to get acquainted with the historical and architectural monuments of Vastra Gotaland County. For example, they can visit Vambs Church in Skovde, see Gunnebo Palace and Lacko Castle in Lidkoping. Do not miss a chance to see Rock Carvings in Tanum which are under UNESCO protection.