Vidin
Resort type:

City resort

Landscape:

Town, Riverside

What to do:

Culinary Tourism, Natural Parks & Reserves, Wellness Tourism, Historical & Architectural Monuments, Yachting & Sailing, Hiking, Caves, Rafting & Kayaking, Surfing, Windsurfing & Kitesurfing, Festivals & Carnivals, Shopping, SPA, Nightlife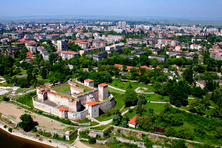 Vidin is a Bulgarian city and the administrative centre of Metropolitan of Vidin and Vidin Province. It is situated on the shore of the Danube River in the northwest of the country not far from the border with Romania and Serbia. Its total area is a bit more than 63 square kilometres. The city is 130 kilometres away from Vratsa and 195 kilometres away from Sofia.
A many-century history of Vidin and its architectural monuments make it a popular destination for the excursion tourism. During an excursion tour, you will see such sights as Baba Vida Fortress, Saint Dimitar Cathedral and a library in it. Do not miss a chance to see Saint Panteleimon Church and Church of Saint Petka. Travelling around the region, the tourists will have a chance to see the ruins of Castra Martis Fortress, take a look at Belogradchik Fortress and Magoura Cave with Drawings from the Bronze Age. The latter is a UNESCO candidate sight.
The event tourism is developed in the city thanks to such events as the Balkan Amateur Chess Festival, Bridge Festival, Fashion Fair and Milka Festival.
The ecological tourists will want to go on a trip to the Rocks of Belogradchik, which is a UNESCO candidate site. Take a walk along the shore of the Danube and enjoy the beauty of the nature. You can also visit Ravnensko Gradishte Protected Site.
For those who prefer city entertainments, in Vidin there are Corner and Siluet nightclubs and a large mall Vidin. Bonomia and Tresor restaurants serve the dishes inspired by the traditional Bulgarian cuisine.
Neptun hotel has a modern wellness centre on site. Highly-qualified staff will offer a massage and toning or relaxing procedures.
There is a wide range of activities for the extreme tourists from rafting, sailing and kiting to yachting on the Danube River. Anyone can go hiking in the suburbs of the city.