Wiener Neustadt
Resort type:

City resort

Landscape:

Town, Mountains, Lakes, Riverside

What to do:

Cycling, Culinary Tourism, Natural Parks & Reserves, Horse Riding, Wellness Tourism, Historical & Architectural Monuments, Gliding & Paragliding, Yachting & Sailing, Hiking, Sport Tourism, Surfing, Windsurfing & Kitesurfing, Festivals & Carnivals, SPA, Nightlife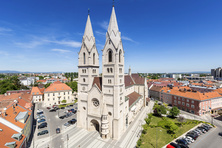 Wiener Neustadt is an Austrian city in Lower Austria State. It is situated in the east of the country not far from Slovakian and Hungarian borders. The city is 60 kilometres away from Vienna and 145 kilometres away from Graz. Its total area is 61 square kilometres.
A rich history and preserved in the Second World War architectural monuments makes Wiener Neustadt a popular destination for the excursion tourism. While walking along the city streets, the tourists will see the Tower of Tortures, Church of the Capuchins and Medieval City Walls. Another interesting building is a Theresian Military Academy, which in the past was the residence of Friedrich III. During a study tour of the city, you will see such UNESCO sites as Semmering Railway and Wachau Cultural Landscape.
The annual Flow Festival attracts many lovers of the event tourism to the city.
You will have a great shopping experience at such malls as Fischapark and Mercure City. If it is the nightlife you are after, you can go to Sternberg and Afterhour Club Premier nightclubs. Traditional Austrian cuisine is served in Altes Backhaus and Buschenschank Annette Prager restaurants.
Freizeittempel hotel has a modern wellness centre on site offering toning and relaxing spa treatments.
For those who want to feel a rush of adrenaline, there is a wide range of activities. For example, kitesurfing, sailing or windsurfing on the Neusiedl Lake. The tourists can take some lessons of paragliding, parachuting or rope jumping. You can also go biking, trekking and horseback riding.
The ecological tourists should definitely visit Danube-Auen National Park. They can explore the ecological systems of the flood meadows of Danube region and swamps. Do not go past Hohe Wand Nature Park.