Aland Islands
Resort type:

Country resort

Landscape:

Broadleaf Forest, Seacoast, Lakes, Island, Riverside, Coniferous Forest, Hills

What to do:

Culinary Tourism, Golf, Casinos, Horse Riding, Boat Trips, Wellness Tourism, Hunting, Historical & Architectural Monuments, Yachting & Sailing, Hiking, Sport Tourism, Fishing & Spearfishing, Shopping, SPA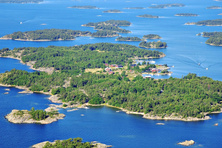 The Aland Islands is an autonomous territory of Finland. It is situated in the Baltic Sea. This is the archipelago, which contains 6.500 islands. Only 60 of them are inhabited. The capital city of the archipelago is a port city Mariehamn.
The Aland Islands is a true Mecca for the lovers of fishing. In different seasons people can catch different fish. In summer, they are perch and salmon. In autumn, you can catch pike and taimen. In winter, people go fishing to catch salmon and pike and spring is the season of salmon. A special permission is required to go fishing on the Aland Islands. A Baltic Sea trip can be arranged for the tourists as well as kayaking, sailing or canoeing.
Those who love exploring historical monuments should visit a medieval fort and a village Kastelholm. Take an excursion to the Vikings' burial hills, original Aland churches, and the ruins of the Russian fortress Bomarsund.
Among the religious sights is the Saint Gorans Kyrka where one can listen to the beautiful sounds of organ.
Visit the Aland Maritime Museum and learn more about the islands. There is an unusual Museumship Pommern museum located inside a ship exhibiting the history of wars and fights in the Baltic Sea. Sjokvarteret is an interesting open-air museum.
Not far from Mariehamn, there is a winery. Anyone can participate in a tasting tour and try delicious apple liqueur. The tourists can visit a potato chips making plant and a snail farm.
For active tourists, there are routes for horseback riding, golf fields, and tennis courts. Like gambling? Then go to the PAF Casino. Rack your brains in the quest rooms Lost Inn and then relax and have a massage in the spa centre Badhuset Mariebad. In summer, you can participate in an international fishing contest, sailing and tennis competitions.
Go shopping at the largest mall on the Aland Islands Sitnikoff Gallery.
You can try traditional Scandinavian dishes in Indigo Restaurang & Bar. Good beer is offered in the Pub Stallhagen and at night, you can listen to a mini-orchestra.