Hamilton
Resort type:

Beach resort

Landscape:

Lakes, Island, Oceanfront, Tropical Forest

What to do:

Golf, Diving & Snorkelling, Natural Parks & Reserves, Historical & Architectural Monuments, Yachting & Sailing, Caves, Fishing & Spearfishing, Nightlife, Zoos, Tennis, Oceanariums & Dolphinariums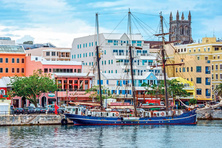 Hamilton is a capital city and a popular touristic destination in Bermuda in the central part of the Bermuda Islands. In the city, there is the Tahoe Lake in Crystal Cave. Not far from Hamilton, the tourists will find Church Cave with the largest underground lake in the country.
This resort is surrounded by the beaches such as Elbow Beach and Turtle Bay Beach. Those who prefer active holidays can try deep underwater fishing, yachting, boating, water skiing or beach volleyball. Not far from the city, there is a natural park South Shore Park the bays of which are ideal for diving and surfing. In Hamilton, the tourists will find golf, rugby and cricket fields and tennis courts.
If you prefer excursion tourism you can walk along the main street Front Street and see many Victorian style buildings. You can also visit Cathedral of the Most-Holy-Trinity, House of Assembly, Senate and Fort Hamilton.
Bermuda Historical Society Museum, Public Library and National Gallery open their doors for all those who want to learn more about the city.
The tourists with children should not go past Hamilton Zoo and Bermuda Aquarium.
In the suburbs of the city, there is Blue Bird Park, Devils Hole Natural Aquarium and Bermuda Botanical Gardens in Paget District.
The foodies will try the best dishes in such restaurants as Quatrefoil, Two Black Sheep and Charred Rotisserie House.
In Hamilton, the tourists will find many entertainments. For example, you will have a fun time in the clubs Casey's, Level Club and Oasis.