Geilo
Resort type:

Ski resort

Landscape:

Mountains, Lakes, Coniferous Forest

What to do:

Mountaineering, Culinary Tourism, Downhill Skiing, Natural Parks & Reserves, Wellness Tourism, Historical & Architectural Monuments, Hiking, Rafting & Kayaking, Fishing & Spearfishing, Snowboarding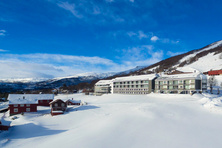 Geilo is a Norwegian ski resort located in the Hallingdal Valley at the foot of the Hallingskarvet Mountain range in the central part of the country. It belongs to Buskerud County. The resort is 260 kilometres away from Bergen and 250 kilometres away from Oslo.
A journey to the city opens wide opportunities for the extreme tourists. They can go climbing, trekking, rafting on the Usta River, skating and sledding.
Geilo is one of the most popular winter resorts in Norway. The areas for skiing are on the both sides of the Hallingdal Valley. The sportsmen with average skiing skills and professional skiers will like Vestlia Ski Center. Beginning snowboarders should choose Geilo Taubane. For the tourists who spend their holidays with children, there is a nursery and a sports school.
In summer, Geilo becomes a centre of ecological tourism. In the suburbs of the city, there are many water basins, including a famous lake Ustevatn. The tourists can go fishing or collecting medicinal herbs growing in the mountains. Hardangervidda National Park and Hallingskarvet National Park are also very popular places among the tourists.
Those who prefer excursions can take a tour, see historical and architectural monuments in Geilo. The monuments which are worth visiting are Konsberg Church, Norwegian Mining Museum and Konnerud Hill Mines.
The wellness tourists can take advantage of the services of wellness centres in such hotels as Vestlia, Highland Lodge and Dr Holms.
A good shopping is waiting for you in Oslo. There are such malls as Aker Brygge, Oslo City and Gunerius.
The foodies should not miss the chance to treat themselves to Norwegian delicacies in the restaurants Hallingstuene, Skibaren and Havsdalskroa.
The nightlife in Geilo is not very active, there are just a few bars in some hotels.