Hessen
Resort type:

Country resort

Landscape:

Swamp, Mountains, Broadleaf Forest, Lakes, Riverside, Steppe, Hills

What to do:

Aquaparks, Culinary Tourism, Natural Parks & Reserves, Casinos, Wellness Tourism, Historical & Architectural Monuments, Thermal & Mineral Springs, Zoos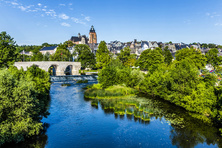 Hessen is a federal state in the central part of Germany. The capital city is Wiesbaden. The region neighbours Lower Saxony, North Rhine-Westphalia, Bayern, Thuringia, Baden-Wuerttemberg and Rhineland-Palatinate. The largest cities in Hessen are Frankfurt am Main, Kassel, Darmstadt, Offenbach am Main, Marburg an der Lahn, Hanau, Wetzlar, Fulda and Giessen.
Beautiful nature, hills covered with woods and rivers make this region an attractive place for the ecological tourists or families. The tourists can visit the villages, acquaint themselves with the culture and everyday life of the locals. The tourists with children can visit a Zoo, aqua parks and entertaining centres.
Mineral sources and spa resorts in Hessen are popular among the people who prefer the wellness tourism.
Large cities of this federal state regularly hold various exhibitions and fairs attracting many tourists.
There are many historical and architectural sights in Hessen so if you prefer excursions you will not be bored here.
Food tourism is well-developed in Hessen. You will try the best national dishes in the restaurants and eateries of Hessen.