Gorzow Wielkopolski
Resort type:

City resort

Landscape:

Town, Broadleaf Forest, Riverside, Coniferous Forest

What to do:

Culinary Tourism, Natural Parks & Reserves, Horse Riding, Wellness Tourism, Historical & Architectural Monuments, Amusement Parks, Hiking, Sport Tourism, Rafting & Kayaking, Fishing & Spearfishing, Shopping, SPA, Nightlife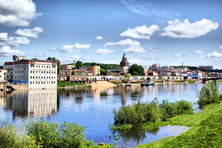 Gorzow Wielkopolski is one of the two capitals of Lubusz Voivodeship situated in the valley of the Warta River in the north-west of Poland. The total area is about 86 square kilometres. The city is 111 kilometres away from Szczecin and 134 kilometres away from Poznan.
Unique nature of the suburbs of Gorzow Wielkopolski attracts the ecological tourists. They can enjoy picturesque landscapes of the lagoon Karnin and take a walk in the Park of Roses, Siemiradzki Park and Notec Woods. Barlinek-Gorzow Landscape Park is of a great interest for those who loves natural sights.
The extreme tourists will have a wide choice of activities from kayaking, rafting, rope jumping, river windsurfing, horseback riding, parachuting and fishing on the Klodawka River.
Gorzow Wielkopolski is a good place for the excursion tourism. The tourists can see interesting historical and architectural monuments such as Villa of Gustav Schroeder, Gorzow Walls and Gothic Cathedral of Virgin Mary built in the 13th century. If you are interested in the history of the country you can visit Museum of Lubusz Voivodeship.
If it is city entertainments you are after, do not go past Gracja Leisure Complex with bowling centres, karaoke bars and a pool. The malls Askana, Gorzow Plaza and Galeria Manhattan welcome everyone to make purchases.
A medical centre MediRaj, sports and rehabilitation centre Slowianka make the city a good destination for the wellness tourism. At such hotels as Mieszko, Qubus and Gracja, there are well-equipped wellness centres where one can have a massage and spa treatments.
For the foodies, food and wine tours are arranged. In the restaurants Futeral, Livingroom and Bella Toscana the tourists will enjoy the dishes of the Polish and European cuisines.
If you do not want to spend a night in your hotel room, clubs open their doors. The most popular are CKN Centrala and Hell.