Isla Grande
Resort type:

Beach resort

Landscape:

Seacoast, Island, Tropical Forest

What to do:

Culinary Tourism, Diving & Snorkelling, Natural Parks & Reserves, Wellness Tourism, Yachting & Sailing, Hiking, Fishing & Spearfishing, Surfing, Windsurfing & Kitesurfing, SPA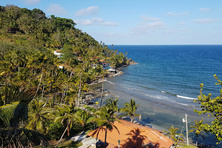 Isla Grande is an island in Panama with the total area of about 26 square kilometres. It is situated in the Caribbean Sea and is 1 kilometre away from the mainland. It belongs to Portobelo District in Colon Province. The island neighbours the Linton Island.
Despite its small size, the resort is a very popular destination for the ecological tourism. The tourists will enjoy walking in the mangroves and lush fern forests, explore the tropical ecosystem and watch the animals. The boat tours to the Linton Island and Mamey Island are arranged for the tourists.
The island has white sandy beaches and all the conditions for swimming or snorkelling. The coastal areas are rich in corals and fishes of all colours, which attract a lot of divers here. The lovers of the extreme tourism choose Lopes Mendes Beach and La Punta Beach, where they can go kiting, windsurfing, surfing, sailing, fishing.
In the hotel restaurants, the tourists will try the traditional Panamian cuisine. La Cholita, Fin del Mundo, El Nido Del Postre serve Mediterranean and international cuisines.
Such hotels as Villa Ensueno, Cabanas Cholita and Sister Moon have wellness centres where one can have a massage or spa treatments.
There are no important historical or architectural monuments on the island, but the tourists can acquaint themselves with the traditions and everyday life of the local population. You can also take a trip to the main city of the country Panama. There you can visit House Gongora, Cathedral of Saint Lucas and Archaeological Site of Panama Viejo.
You can go shopping at the malls Multicentro, Sun Tower and Los Andes.
There is no nightlife on the island.