Dalarna
Resort type:

Country resort

Landscape:

Broadleaf Forest, Lakes, Riverside, Coniferous Forest, Hills

What to do:

Mountaineering, Culinary Tourism, Golf, Downhill Skiing, Mountain Trails, Natural Parks & Reserves, Carting & ATVs, Historical & Architectural Monuments, Hiking, Rafting & Kayaking, Fishing & Spearfishing, Snowboarding, Festivals & Carnivals, Shopping, Nightlife, Zoos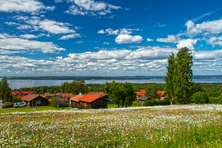 Dalarna is a Swiss historical province which is situated in Svealand. The capital city of the region is Falun.
This province is very popular among those who prefer excursions, skiing and outdoor activities. A baroque-style Falu Kristine Church amazes with its rich adornments and makes a great impression. Falun Mine is a popular touristic place. In Floda one can see a castle Naas. The oldest church in the region is Torsangs Church built in the city of Borlange. If you want to learn more about the cultural heritage of Dalarna go to Dalarnas Museum in the city of Falun. The city of Mora is a birthplace of a famous Swiss artist Anders Zorn. Today the house where he lived is a museum (Zorn Museum), the tourists will see personal belongings and the works of the artist.
In Dalarna, there is a beautiful Fulufjallets National Park with a mountain plateau and rivers. The active tourists can go climbing, canyoning, four wheeler riding, jeep safari, hiking and trekking. There is also a wide choice of water activities such as kayaking, canoeing, rafting and fishing. The families often choose Romme Alpin in Borlänge Municipality. A skiing resort Bjursas Ski Center is very popular among the tourists.
If you come to Dalarna with children do not go past an amusement park Leksand Sommarland in the city of Leksand. Saterdalens Folkpark regularly holds folklore festivals, concerts and fairs. In Salenfjallens Algpark one can see wild animals. You can play golf in Idrefjallen Golfbana.
You can buy Swiss and European goods in Kupolen Shopping Center. You will have a good shopping experience in Leksands Knackerbrod which will surprise you with attractive prices.
The restaurant Blackstone Steakhouse serves the Swiss cuisine. If it is a nightlife you are after Club Etage opens its doors for everyone.