Dinant
Resort type:

City resort

Landscape:

Town, Mountains, Broadleaf Forest, Riverside, Coniferous Forest

What to do:

Cycling, Culinary Tourism, Golf, Natural Parks & Reserves, Wellness Tourism, Historical & Architectural Monuments, Gliding & Paragliding, Hiking, Caves, Sport Tourism, Rafting & Kayaking, Surfing, Windsurfing & Kitesurfing, Festivals & Carnivals, Shopping, SPA, Nightlife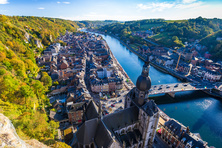 Dinant is a Belgian municipality in Namur Province. It is situated on the shores of the River Meuse in the north of the country close to France. Dinant is 55 kilometres away from Charleroi and 75 kilometres away from Liege. The total area of the city is about 100 square kilometres.
A very special atmosphere of a historical city attracts the lovers of excursions. Here they will enjoy historical and architectural monuments of the Medieval times. The tourists will acquaint themselves to Citadel of Dinant, Church of Our Lady and Freyr Castle. Do not miss a chance to see Adolphe Sax's House. Excursion tours are also arranged across Namur Province. During the tour, you will see Belfries of Belgium which are under UNESCO protection. Meuse Citadels which are a UNESCO candidate site is also of a great touristic interest. You will also want to see Funeral and Memorial Sites of the World War I.
In the surrounding areas of Dinant, the extreme tourists can take up a lesson of horseback riding, go biking, kayaking, river windsurfing and rafting. There are also some hiking routes. If you are adventurous enough, you can try your hand and rope jumping, paragliding or hang-gliding.
If you like to participate in the local events you can take part in Jazz Nights Festival or Travel Storytelling Festival.
Those who prefer city entertainments can go shopping to the malls Centre Dauphine and La Toison d'Or. The night clubs Le Beverly, Le Chat Noir and Bal'tazar open their doors for everyone who is sleepless at night. On the field Golf De Bourgogne, you can play golf. The foodies will treat themselves to the original Belgian dishes in Ivan des Frites, Chez Bouboule and La Ville de Bruges.
In such wellness centres as Serenity Spa and Nalakan Spa you can have toning or relaxing spa treatments.
The ecological tourists should not go past the Caves of Han and the Cave of Spy. The tourists can also go to High Fens-Eifel Nature Park, which is 100 kilometres away from Dinant.